Bellamy's Organic Pear and Apple Snacks, Dried Fruit, single pack, 20g
MOMMY RATING
Highly Recommended
Bellamy's Organic Pear and Apple Snacks, Dried Fruit, single pack, 20g
Our Organic Pear and Apple Snacks contain only the natural goodness from certified organic fruit, grown without pesticides or synthetic fertilisers. As these apples and pears are snap dried, they provide a crisp and crunchy between-meals snack, with all the taste, natural sweetness, fibre and nutrients of a fresh organic apples and pears.
No Added Sugar
100% Organic Fruit
No Additives or Preservatives
Made in Australia
Certified Organic by NASAA and ACO
Convenient resealable pouch
INGREDIENTS
Organic pears (60%)
Organic apples (40%)
ALLERGENS
Vegetarian & vegan suitable.
EXPIRY DATE
07/02/2021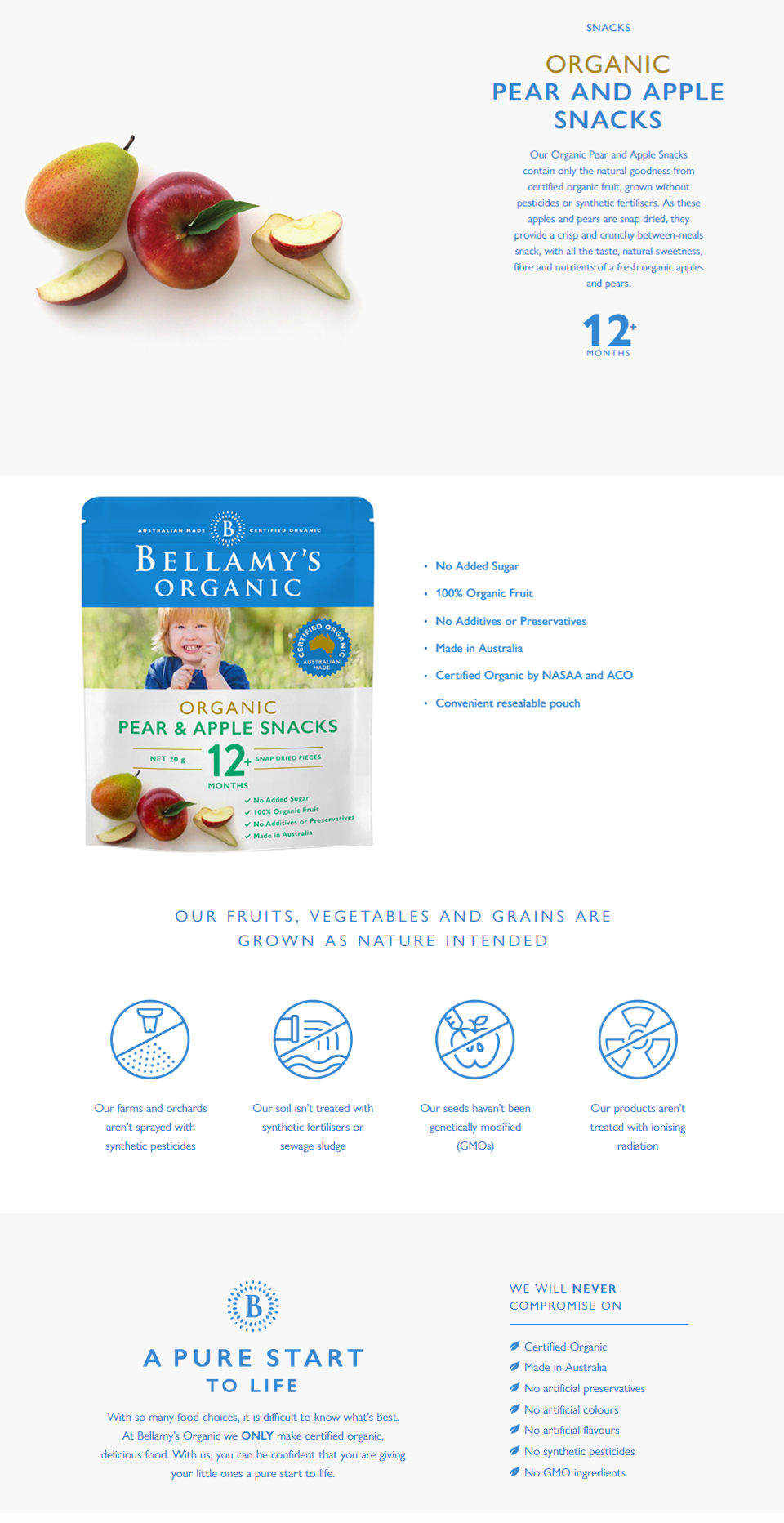 SHIPPING RATES
WOWMOM is proud of its curation of local and international brands on one website. As you may purchase products from multiple sellers in a single order, your order may be fulfilled separately, depending on where the products and/or brands are located.
Unless otherwise stated, orders will be fulfilled by WOWMOM in Singapore. The following brands are fulfilled by WOWMOM: 4moms, Baby Tula, Bambino Mio, BellaMoon, Belly Bandit, Benbat, Bravado Designs, Bubble, Cogni Kids, Cuddledry, Ergobaby, Ezee Reach, Herobility, Koolsun, Krooom, Lil Fraser, Lily & Mortimer, Made4Baby, Make My Day, Nuby, OXO Tot, Pearhead, Piccolo, Plum, Shnuggle, Skip Hop, The Evolved Parent Co, The Gro Company, Theraline, Trunki, Ubbi, Wow Gear.
We are pleased to offer free delivery for orders above SGD80. For orders below SGD80, there will be a SGD5 delivery fee.
SHIPPING TIMES
We typically require 1-2 working days to process your order. Once your parcel has been picked up by our courier, your parcel will then be delivered within 1-3 working days. Please note that there may be slight delay during sale periods.
If the product is located overseas, delivery time will take between 1-2 weeks.
RETURNS
Please refer to our Returns Policy here.
Please note that there will be no refund or exchanges allowed for food products or undergarments unless the product is defective (e.g. the packaging was open when received).